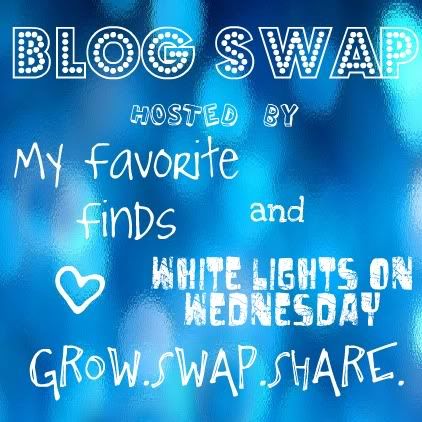 Hi there! I'm Mrs. White and I hail from Little Homemade Housewife.
As apart of the Grow.Swap.Share event,
(hosted by Carrie & Julie)
I was the lucky duck to get paired up with Sarah on her delightful blog!

So after some thought and consideration,
we decided to share with you our menu planning habits!
So here goes.



Whenever I mention the fact that I meal plan,
the first response I seem to get is:
Wow I wish I could do that
Well I'm here to tell you that you can.
And it's not even that hard. Swearsies.

It has a load of benefits.
Cuts out a lot of craziness every night.
(and this is even without kids)
It also saves a lot of money,
because you're not left with the choice of just 'grabbing something on the way home'
To be honest, all one needs is one night a week.


Just one.


Then you have your whole next week planned,
as well as a shopping list of just what you need for that plan.

The first step in taking the menu planning plunge I would say is
find yourself a decent organizational system.
One that works

for you

.
There's a ton out there that you can find.
I currently use one I found at The Project Girl.



via

But as soon as I get my planner I made bound,
I'll be using a system that's tailored to my needs specifically.


The second tip I'd give is make the commitment.
Commit to sitting down once a week to plan.
and plan the whole thing right then.
We do ours on Wednesday because he gets paid Thursday.
Try to go shopping the same day every week, and only do it once,
and only do it for what's on your list!
That's where the real money saving comes in.

One other thing you might be wondering is how do you choose which meals you should fix?
Well, one great way is having a repertoire of meals to pull from.


Variation is key.


Just because you're planning things doesn't mean it has to be the same things every week.

This is the process I go through in my head each week:
What kind of coupons can I find?
What kind of meals can I make from said coupons?
After those meals are situated I go onto:
What kind of food do I already have in my house?
What kind of meals can I make from that?
After those meals are situated I arrive at:
What meals can I make relatively cheaply?
And that usually fills in the rest of my week.
Then you proceed to make your shopping list from what you don't already have,
and voila! You just planned your first week.

Easy peasy.

Now, in case you don't have a stunning array of recipes to pull from,
Sarah and I decided to lend you five of our favorites.
They may not be as fancy, but they're cheap, easy, and delicious.
biscuits and gravy:
2 1/4 cups Original Bisquick mix
1/3 cup milk
1/3 cup 7 up
1/4 cup butter
Heat oven to 450. Melt butter and pour into bottom of bake pan. (we use 9x9)
Stir ingredients until soft dough forms.
Turn onto surface dusted with Bisquick mix. Knead 10 times.
Roll dough 1/2 inch thick. Cut with 2 1/2-inch cutter.
Place in the bake pan with the butter on the bottom.
Bake 8 to 10 minutes or until golden brown.
1 pound ground sausage
1/4 cup all-purpose flour
2 cups milk
Salt and black pepper to taste
Crumble and cook sausage in large skillet over medium heat until browned.
Stir in flour until dissolved.
Gradually stir in milk.
Cook gravy until thick and bubbly. Season with salt and pepper.
Serve hot over biscuits. Refrigerate leftovers.
Tater Tots & Chili:
Bag of frozen tater tots
Two cans of chili
shredded cheese
Heat oven to 350. Pam an 8x12 bake pan.
Pour a flat layer of tater tots over the bottom.
Cover tots with your two cans of chili
Top the chili with shredded cheese
Cover and bake 20 minutes.
If cheese is not melted, uncover and cook an additional 5 minutes.
Manicotti:
1 kielbasa sausage
1 (8 oz) package of cream cheese
---
(or for a less rich/slight spendier option, ricotta)
2 cups shredded mozzarella cheese
1 (16 oz) jar favored spaghetti sauce
---
we like vodka sauce
12 manicotti shells
Bring a large pot of salted water to a boil. Add shells. Cook 8-10 minutes, drain completely.
In skillet, cook chopped kielbasa, drain, and keep warm.
In a large bowl, combine your cream cheese, 1 3/4 cup of your mozzarella, and your warm sausage.
Preheat your oven to 350.
Using either a pastry bag, or a ziplock with the corner snipped, stuff noodles with your cheese and sausage mixture.
Place in a baking dish, cover with sauce, and sprinkle remaining cheese over the top.
Cover, and bake for 25 minutes, or until cheese is melted and bubbly.
Stroganoff:
This recipe can be found
here
!
Potato Bacon Casserole:
This one isn't one of my creations, but it's one of our favorites.
Here is the Recipe!
That's all we have time for today folks!
I want to thank Carrie and Julie for setting this whole thing up,
and Sarah for having me on her wonderful blog!
Don't forget to come visit me sometime!♥