Your family will be on pins and needles waiting for this meal to hit the dinnertable!
If y'all have been around for a while, you know I participate in Sunday Supper often. What is Sunday Supper? It's a movement started by Isabel Laessig to inspire others to spend more time around the family table. Each week, a community of bloggers shares recipes from a particular theme. This month marks the 6th anniversary of the very first virtual Sunday Supper event and it's also Sunday Supper Month.
Take the pledge
and join the Sunday Supper Movement to bring back family dinners!
Since it is Sunday Supper Month, today's event is
SUNDAY SUPPER RECIPES
. These recipes are ones that may take a little longer to make and the whole family waits in anticipation to all gather around the dinner table and share together. This fits me so well because Sundays are days I have more time to make dinner and tend to make more time-consuming feasts on those days.
Today, I am sharing these Shepherd's Pie Potato Skins. On the surface, they sound like they would be an appetizer, but they definitely are a main course meal. It's definitely a different take on shepherd's pie where the potatoes become the vessel and they aren't in a casserole dish. I feel all the elements are very classic shepherd's pie but it is all about that crispy potato skin!
(
Print
)
What you need:
For the potatoes:
8 large russet potatoes, scrubbed and dried
1 cup milk
1/4 cup unsalted butter, at room temperature
1/2 tsp. salt
1/4 tsp. pepper
For the filling:
1 Tbsp. olive oil
1/2 cup chopped yellow onion
2 cloves minced garlic
1 lb. lean ground beef
1/2 cup dry red wine
2 cups frozen mixed veggies
1 can (6 oz.) tomato paste
1 Tbsp. Worcestershire sauce
1 Tbsp. cornstarch
2 tsp. whole grain mustard
1 tsp. dried rosemary
1 tsp. salt
1/2 tsp. black pepper
1/2 tsp. dried thyme
1/2 tsp. oregano
Directions:
Pierce potatoes several times with a fork. Arrange on a foil lined baking sheet.
Bake in a preheated 425 degree oven for 45 minutes or until tender. Cool.
Make filling by heating oil in a large skillet over medium-high heat. Add onion and garlic and saute for 2 minutes or until softened.
Then add meat. Cook and crumble about 5 minutes or until no longer pink.
Add wine and scrape up any cooked bits at the bottom of the skillet.
Then add veggies and remaining ingredients. Stir to combine.
Bring to a simmer and cook for 10 minutes. Then remove from heat.
Slice each cooled potato in half and scoop out the flesh leaving a 1/4-inch shell. Reserve flesh in a large bowl.
Then brush the skins inside and out with olive oil and season with salt and pepper.
Place back on the baking sheet and bake for 10 minutes turning once about halfway through.
Mash the reserved potatoes and add butter, milk, salt, and pepper. Whip until smooth.
Fill each potato skin with meat mixture. Then spoon or pipe mashed potatoes on top.
Broil for 5 minutes or until mashed potatoes are golden brown.
Recipe from The Spiffy Cookie
Check out these other Sunday Supper recipes below!
Super Sunday Entrees
Sweet Sunday Desserts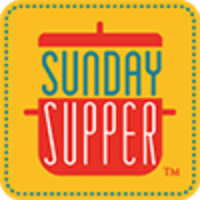 The Sunday Supper Movement is committed to bringing our readers delicious recipes that encourage them to gather and eat together around the family table. Search for your favorite ingredients on our
Sunday Supper website.
Also check out the
Sunday Supper Pinterest boards
for plenty more ideas and inspiration.
------------------------------
don't miss a thing. follow fantastical on:
facebook | pinterest | bloglovin | instagram